Sewerewes Enterprises -
Official Soundtrack
Never before in the
history of sound
has such a
cutting-edge, break-through album
as this one been produced! The dazzling corporate entity known to many as 'The Sew' broke new ground when they unleashed this
fine specimen of aural perfection
onto the unsuspecting public. In fact, never before has an album been accepted with such overwhelmingly tacit enthusiasm as this
fabulous hunk of record
has in just its first five years of existance. And the legend lives on. Now experience the great wonder that is the
Sewerewes Soundtrack
for yourself!!!
NOTE: You will need Realplayer to hear these tracks. ::download::
Sewerewes Theme
- a corporate mission never sounded so appealing as it does in this striking rendition, executed by our very own
Victor Rosenblum,
Vice President of General Operations and Stapler Guru.
Sewerewes Background Music
- this tune had such a magnificently productive effect on our test rats in the cosmetic division that we now pipe it into every office on a
soothing, continual loop.
Sewerewes - Meditations
- our resident poet and floor waxing specialist
Merv P. Boonfrick
'waxes poetic' on his undying adoration for the company he's afraid to leave.
Sewerewes Love
- now, our loyal customers have their own Sewerewes anthem! This touching melody was a tribute from a community member in the town where the
Sewerewes Foundry and Paper Plant Emporium
is located. As an act of good will, Sewerewes generously donates fashionable gas masks and rubber suits to members of the community during the holidays.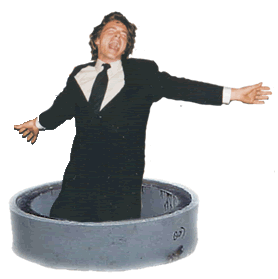 ABOVE: Our astute VP, Mr. Rosenblum, hard at work.